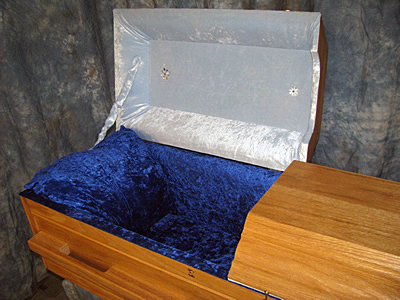 Here is an Solid Oak Wood Casket custom made for a smaller adult constructed using solid Red Oak wood.
Made in the Premier style with a 2 piece moulded raised lid design & solid one piece wood handles.
A very light stain was used to give it a slightly darker tone.
The interior was fully lined in Blue & White.
Over all lenth is 63" & over all width is 23".
Many on-line casket retailers and funeral homes use the term "wood casket" but many, if not most use a very thin veneer of wood over pressed board construction, they are not true "wood caskets".
All our caskets & coffins are constructed here in the USA using solid wood lumber.
Prices starting at only $949.00 in the Basic design.