Solid Oak Casket with optional 2-piece split lid.
breadcrumb
A 2-piece split lid option is available on all our Oak Casket styles and lid designs.
A center split is standard which allows for viewing from either end, with an offset split available by special request.
Standard Features:
Solid Oak box construction with reinforced corners & joints.
Solid Oak 1-piece handles.
Solid Oak 2-piece "center split" lid design with reinforced corners & joints.
Casket exterior is fully sanded, stained & finished.
Casket interior fully lined & padded.
Brass hardware.
Sized to fit a standard vault.
USA made.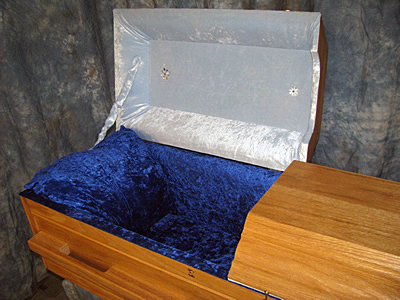 Wood Characteristics:
Oak wood is an open-grained hardwood that is moderately hard and heavy. Colors vary from light tan to brown heartwood and the sapwood is creamy white to gray.
Oak finishes very well and light tan to medium brown stains will enhance the natural colors.
Options Available:
An offset (either left or right) lid split. (Call for details).
Your choice of stain & liner colors.
Custom sizes.
Unlined & Unfinished Oak casket at a reduced price.
2-piece split lid Oak Casket prices start at $1024.00 in the basic style.
Our Most Requested Caskets
All designs & images © 2007-2016 Caskets by Design.