Our Eco-Friendly wood coffins are available in a variety of soft and hardwoods, with Cedar and Pine being more popular. Each one is built from approved 100% biodegradable and non-toxic materials, which make them a responsible earth friendly alternative to the factory assembly line, "stamped steel" units the major casket manufacturers produce.
We offer our Green Coffins in all of our styles from simple Pine Box, Standard, Premier and Old World designs.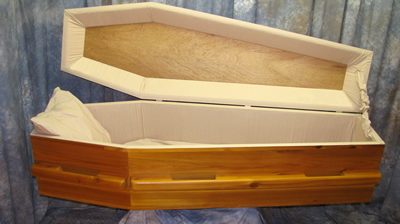 This green coffin was made from Cedar wood, it has a 1 piece raised lid & wood handles. The interior was lined with a natural muslin cloth and the padding was unrefined cotton. Amber shellac was used on the exterior & it was undersized for a smaller person.

This eco-coffin was made of Pine wood, and was left unfinished & unlined, sized to fit astandard vault.
In Stock - Ready to Ship.

2-Tone Premier Mahogany Eco Coffin w/Dark Mahogany wood lid & trim and Butternut panels. Built with 100% biodegradable materials, it has a natural finish, standard sized. Sale Priced $1199.00, SOLD.
Features on all our Eco Style Coffins
100% biodegradable construction including solid wood box construction with reinforced corners & joints.
Solid wood Handles - available in One Piece or Rod & Bracket styles.
Fully sanded and finished, either bare wood or finished with a natural oil or shellac.
Solid wood Lid with reinforced corners & joints - available in 1 or 2 Piece - Flat or Raised styles.
Unlined or fully padded with a 100% natural cotton batting & lined in natural muslin.
Eco Coffin prices starting at $899.00