Specialty caskets made of wood, custom made wood caskets.
Below are few examples of what past customers have requested most often;
Caskets made of unusual wood types. Including Paulownia & Hemlock.
Casket & Coffin beds. Double wide caskets with air vents.
Special sealed caskets.
Caskets with glass inserts in the lid.
Special engravings, carvings or inlays.
Prop caskets used in Hollywood movies, theater plays & television commercials.
Magicians caskets. Specially designed for use in their magic acts.
Party caskets. Plenty of room for the cake & punch.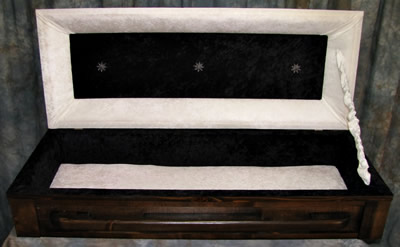 If you have a question, comment or have a special request please call or contact us here.