Created
Jan 17, 2015
, and updated
1/12/2018
by
Terri Hurley
Best Quality Hmong Caskets On Line.
Our Hmong Caskets are made in the USA, and are for sale direct to the public. They are attractive, dignified and are of the best quality.
Hmong Caskets, made from Port Orford cedar, also known as the Lawson cypress is native to Oregon and northwestern California, and grows in the valleys of the Klamath Mountains, often along streams. The wood known for its highly fragrant ginger aroma, is light yet has great strength and decay resistance, and is particularly highly valued and in high demand in East Asia.

So don't be forced into paying more for your casket or coffin, as we will save you $100's or even 1,000's off the price of your funeral.
Base Price $999.00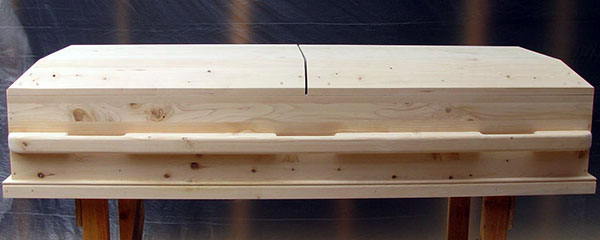 Constructed using a special box & lid design using 100% materials made from wood, this casket contains no metal parts which makes it well suited for Hmong funerals.

The cedar wood is hand select for the best quality of grains and character, and they come standard with a smooth box design, a two piece raised lid, and solid wood handles. The exterior is sanded to a very smooth finish and left unfinished to enhance the natural cedar aroma. The interior is fully padded and lined, including the lid. The colors are matched to the over-all tone of the wood, with your choice of liner colors on pre-order models.
Special Lid Features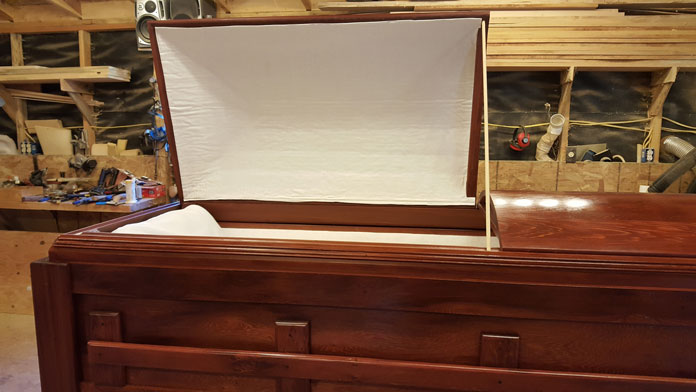 The premier Hmong casket has the special two piece round lid that can be lifted away, and when in place, sets in a special cradle that allows the lid to swing open in either direction. The cradle base also lifts away to maximize the opening when placing your loved one in the casket. The interior is fully lined, including the lid, with white the standard with a wide range of optional colors. A matching poly filled pillow & mattress are standard, with alternate colors & cedar batting being options.
Premier Construction Features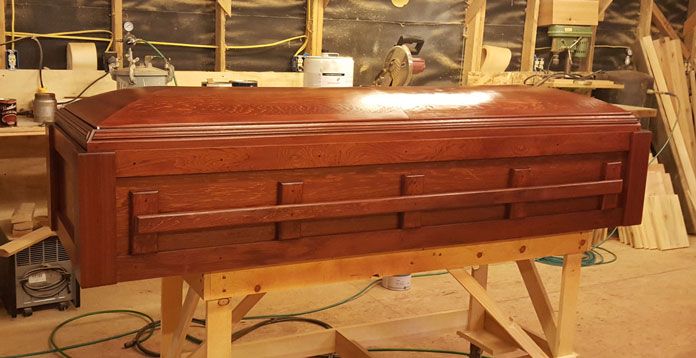 The entire casket is made from the Lawson cypress, a locally sourced wood that has excellent decay resistance, is generally light in color that can be stained & finished or left natural. An alternative is Tennessee red cedar which also is very resistant to decay, but has much deeper color tones and character but doesn't take stain well, so a natural finish with a protective oil is very common. This casket was stained in dark Cherry and given a semi-gloss lacquer finish.

The wood handles are a special low profile design so they don't add to the over all width of the casket. This is so the interior of this casket is at a maximum yet will still fit in a standard size vault.
Many of our products are made to order in as little as 3 days, but we also normally have a few caskets and coffins on hand either finished, wrapped and ready to ship, or semi-finished & waiting to be lined in the color of your choice, you can check those out
here
.
If you are looking for something different you can browse our many other types & styles of wood caskets & coffins by using the
site menu
at the top of the page, or simply
click here
.
All designs & images © 2007-2018
Caskets by Design
.