We manufacture cedar caskets here in the USA for sale direct to the public that are attractive, dignified and of the best quality. They are available in a wide selection of styles, from a simple box to elegant paneled & trimmed designs, in standard, oversized & custom sizes, with a wide choice of stain and liner colors to choose.

Don't be forced into paying more for your casket, our prices start at only $699.00, so we can save you $100's or even 1,000's off the price of your funeral.
Here are a few examples of our Cedar Caskets fashioned in the Modern Contemporary style.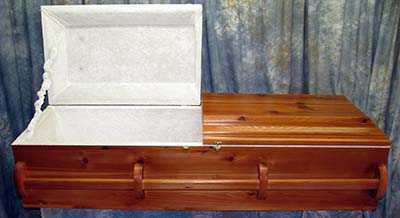 This Cedar Casket had a raised 2 piece moulded lid, rod & bracket style wood handles, natural gloss finish, lined in white and was sized to fit a standard vault.

This Cedar Casket was fashioned in the modern style, had a standard raised lid, wood handles and finish.
This Cedar Casket was fashioned in the modern style, made out of Tennessee Red Cedar with a natural clear finish.
Our cedar caskets come fully lined in your choice of color, with a raised one piece lid and wood handles standard, custom styles available upon request.
Basic Features of all our Solid Wood Cedar Caskets.
Solid Wood Box construction with reinforced corners & joints.
Solid Wood Handles - available in One Piece or Rod & Bracket styles.
Solid Wood Lid with reinforced corners & joints - available in 1 or 2 Piece - Flat or Raised styles.
Fully sanded, stained & finished.
Interior fully lined & padded.
brass hardware.
Page Updated 06/30/16