Custom Alder Hardwood Caskets and Coffins offered in a wide selection of styles and designs.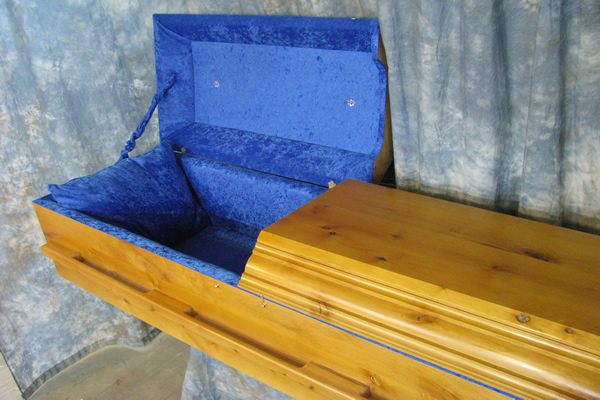 This Alder Hardwood Casket was fashioned in the Contemporary style with a raised 2 piece ornate lid design, lined in blue, sized to fit a standard vault.

Basic Features of all our Solid Wood Alder Caskets & Coffins
Solid Wood Box construction with reinforced corners & joints.
Solid Wood Handles - available in One Piece or Rod & Bracket styles.
Solid Wood Lid with reinforced corners & joints - available in 1 or 2 Piece - Flat or Raised styles.
Fully sanded, stained & finished.
Interior fully lined & padded.
brass hardware.
We offer hardwood caskets in Standard, Contemporary, Eco-Friendly and European Old World designs.
Please take a few mintues and browse our wide selection of styles & designs, readily available wood varieties are, Alder, Cedar, Cherry, Mahogany, Maple, Oak, Pine, Poplar and Walnut. Other wood types available by special request.