Old World Coffins - European Coffins - Shouldered Caskets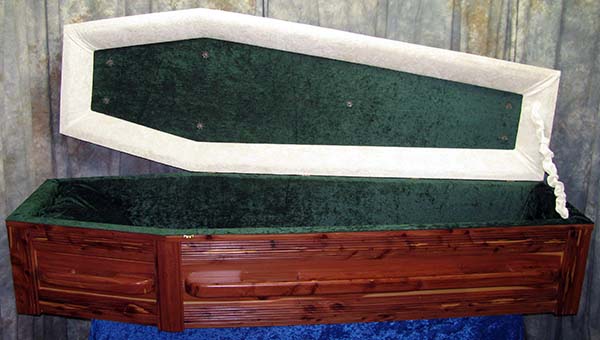 Our European Old World style of coffins are available in variety of wood types with Cedar, Pine and Mahogany being the more popular. It can be made with a raised one piece lid or a split lid for viewing. Exterior configurations include a Standard or Contemporary style, wood handles are standard with metal or none being optional. Color choices are from natural to very dark. Interiors come in unlined or fully lined and padded, in your choice of color. We also offer our European Old World coffins in a 100% Eco-Friendly version.
Attractive Premier Solid Alder Coffin with one piece lid and wood handles, deluxe trimming, sanded and finished with a clear lacquer, standard sized and is to be lined in your choice of colors.
$1199.00
This Poplar Coffin is designed in the European Old World Contemporary style with a raised lid and solid wood handles. Sized to fit a standard vault.
Our Most Requested Caskets
All designs & images © 2007-2016 Caskets by Design